Eureka Sky Walk
Go on California's new forest sky trail, Get a redwood to plant at home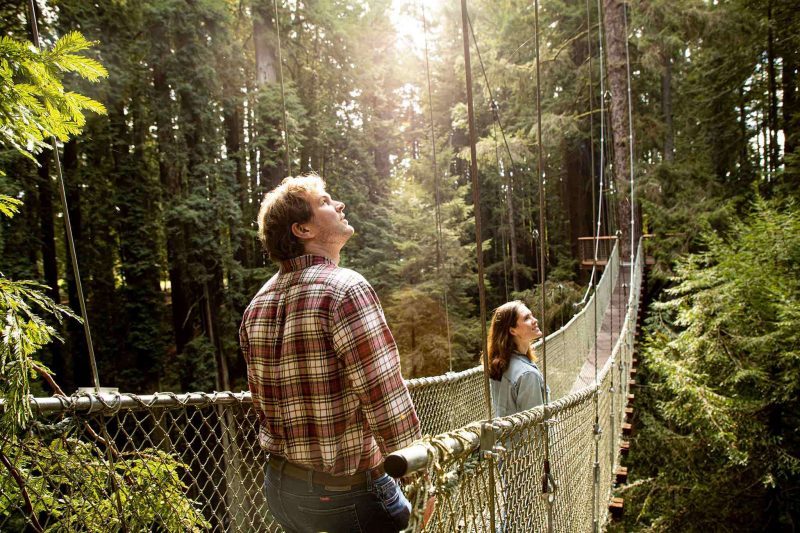 Eureka hotels team with tree company to give free seedlings to Redwood Sky Walkers
June 4, 2021
Eureka, California – To celebrate Northern California's new forest canopy trail, which features some of the world's tallest trees, Eureka lodging properties are offering free redwood seedlings to guests who go on the attraction.
The Redwood Sky Walk, which opens June 4th, 2021, in Eureka's community park and zoo, is the longest arboreal trail in the Western United States.
The $4 million canopy walk, reaching 100 feet above the forest floor, showcases old growth trees rivaling those of nearby Redwood National Park and the Avenue of the Giants.
"One of the greatest rewards of hosting people from all over the world is sharing the wonders of the redwoods," said Gary Stone, director of the Eureka Lodging Alliance (ELA), the primary donor for the Redwood Sky Walk project.
"We're pleased to have worked with the Sequoia Park Zoo so that people can experience these remarkable trees from new heights."

Most of the quarter-mile walkway is ADA compliant and, for more intrepid visitors, offers a bonus adventure leg with square open mesh decking, making a thrilling but safe back and forth sway.
The series of suspended bridges and tree platforms overlooks Sequoia Park, which consists of almost 70 acres of redwoods, springs, creeks, meadows, hidden grotto with waterfalls, and miles of paved and dirt trails.
Entrance to the Redwood Sky Walk is included with admission to the Sequoia Park Zoo, a fun-sized menagerie complete with red pandas, bush dogs, spider monkeys, river otters and other irresistible animals in California's oldest certified zoo, which is about five hours north of San Francisco by car.
After doing the elevated experience, guests who email photos of themselves on it to eurekaredwoodtrees@gmail.com will receive a promo code to get a free seedling shipped to them, compliments of the ELA and the Jonsteen Company.
"The more we learn about the benefits of trees and forests, the more amazing and essential they reveal themselves to be for all life on this planet," said Jonsteen owner Jonathan Claasen.
"This attraction is a fantastic new way to learn about and experience the high-flying majesty of the redwoods."

About The Eureka Lodging Alliance
A non-profit association of hoteliers based in Eureka, California, the Eureka Lodging Alliance is dedicated to promoting responsible tourism among the many natural and cultural assets of Eureka and Humboldt County, the heart of California's Redwood Coast. The ELA is part of the Humboldt Lodging Alliance, a 501c6 nonprofit corporation and the official owners association for the Humboldt County lodging industry. Its guest website is https://visithumboldt.com.
About the Jonsteen Company
A Humboldt County, California-based company that grows, packages and delivers tree seeds and seedlings throughout the world, Jonsteen was founded in 1992 to supply live Coast Redwoods and Giant Sequoias with interpretive packaging to National Parks. Clients today include direct consumers, retailers, wholesalers and Fortune 500 companies. Its online nursery and retail store is https://SequoiaTrees.com.
Limit one seedling per family. Retail value $8.99. A small $4.60 shipping and handling charge covers delivery to anywhere in the United States. Promo good until August 4th, 2021.
Redwood Sky Walk photos are courtesy Eureka Lodging Alliance/Amy Kumler. More are available for press use at http://tiny.cc/eurekaskywalk. For additional information, contact Stenger Media at 707-497-8134 or richard@stengermedia.com.